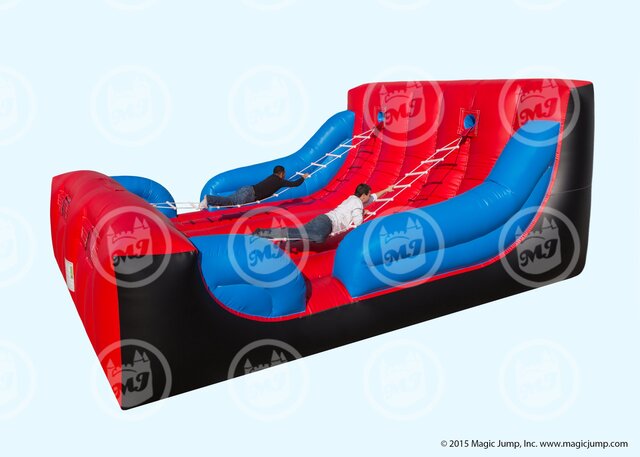 Jacobs Ladder
Actual Size: 3″h x 24″w x 49″l
Age Group: All Ages




Try if you can to Climb the Ladder. Also known as Jacobs Ladder Inflatable at carnival game booths, this inflatable is a challenging attraction that always draws a line of eager participants wanting to test their skills. Whether riders challenge themselves individually or turn it into a race, Climb the Ladder is a fun game for everyone to try over and over again.
Assembly of the ride is simple; it's the game itself that is hard to master. The surface is 22'x17' inflated and has plenty of room to catch the contestants as they teeter off the ladder. The inflated side walls provide added safety during operation.
Climb the Ladder is a fun game for carnivals and festivals or large family gatherings that look to have a variety of attractions for guests to keep the fun moving. It is also great for indoor centers. It is also a hit at fundraising events as it makes ticket sales a lot easier.
Challenge your party to keep their weight balanced as they race to the top of the ladder climb. Climb the Ladder to a more successful operation with this inflatable attraction in stock.
Specifications
Item Number 42816c
Dimensions 22' x 17' x 9'
Weight 306 lbs.
Blowers Required1 (1.5 hp. ea.)
Operators Required1
Max Patrons 2
Patron Height (min/max)36" / 72"
Weight per Patron200 lbs. ea.
Quantity Per Unit 1 Piece